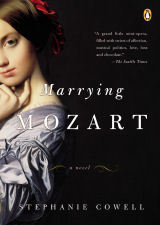 FOR BOOK CLUBS: PLEASE SEE BELOW FOR DISCUSSION QUESTIONS!
MARRYING MOZART was a great hit in its first stage production with Mozart's music (called a singspiel); it ran for four performances in NYC to pretty much sold out houses. Many thanks to Opera Moderne and Dicapo Opera and all the gifted actors and singers. Please check in for where it will play next! I believe there are a few real plans in the works!
It was a total thrill to present the novel at the Metropolitan Opera Guild in November.
"Marrying Mozart is a charming novel, so much so that one would enjoy it even if the gentleman involved in these girls' lives were not one of the greatest geniuses in the history of music. It also has the virtue of offering a believable and appealing portrait of Mozart himself. A perfect harmony of fact, fiction." The Los Angeles Times
"A grand little mini-opera, filled with twists of affection, musical politics, love, loss and chocolate." The Seattle Times
MARRYING MOZART is the story of the four spirited Weber sisters of Vienna and the struggling composer who fell in love with all of them in different ways and eventually married one.
Mozart arrives in the city of Mannheim in 1777 with his mother; his child prodigy days are behind him and at the age of 21, he is trying to find work as a composer. He is invited one evening to a musicale at the home of the poor violinist Weber who has four daughters. Quickly, the susceptible Mozart falls in love with the exquisite second daughter, but when he has to leave for Paris to find work and then back to Salzburg, she goes her own way. In fact all four Weber girls go their own ways, falling in love with the wrong people, trying to break free of their manipulative mother who wants to marry them to royalty though they live in a tenement and hardly have money for hair powder. Three girls are gifted sopranos. The eldest adores her father and wants to open a music shop, the second one lands in trouble, betrays Mozart, and becomes a great success at some cost; the youngest, at fifteen an adolescent philosopher, wants only to do good works while the third daughter tries to hold the splintering family together. As they are rushing about, Mozart is climbing with difficulty in the world of music, trying to make a name and a living so that he can defy his father and marry. Each of the four sisters (Josepha, Aloysia, Constanze, and Sophie) would remain close to him for the whole of his brief life.
MARRYING MOZART was born from my years of singing Mozart's operas but the idea did not form until one lazy afternoon while I drank Viennese coffee under a picture of the composer in New York City's Cafe Mozart. I began scribbling notes on a bit of paper while eating pastry and listening to a Mozart horn concerto. Within days the book formed into the story of four lovely sisters and one lonely young man who nobody much thought would be a genius. The novel took less than nine months to write with revisions and was published by Viking in 2004. It has been translated into seven languages and I have given readings from it with string quartets, sopranos and once a chamber orchestra in many places throughout America. In Salzburg it was sold down the street from Mozart's house in a bookshop where the composer himself bought books more than two hundred years ago.
DISCUSSION QUESTIONS
1.How does the Mozart of this novel compare to your previous idea of him?
2.Discuss how each of the Weber sisters in turn affects Mozart and his music. How does Mozart, his choices, and his passions change over the course of the novel?
3.Of the four Weber sisters—Josefa, Aloysia, Constanze, and Sophie—who do you think would have ultimately made the best wife for Mozart? Are you content with the choice he made?
4.Much of the story rests on the fact that women were wholly dependent on their fathers and husbands for financial security. The fact that the two oldest daughters, Josefa and Aloysia, are able to earn their own incomes as singers made them more independent and rebellious than the two younger sisters. How do you think each of the sisters would have been different had they lived in modern times?
5.Josefa and Aloysia are rendered as complete opposites from one another, and also from their younger siblings. Constanze is also depicted as quiet and reserved whereas Sophie is fearless and outgoing. Discuss the many differences between the girls, and the surprising similarities.
6.What effect do Fridolin and Maria Caecilia Weber have on each of their daughters, for better or worse?
7.Both the Weber girls and Mozart are expected to make advantageous marriages to help support their parents. Yet they are each desperate to make their own way in the world on their own terms. Discuss the role of duty between parents and children of the time.
8.Discuss the rebellious nature of Mozart's choices. In leaving the security of the Archbishop and marrying for love instead of money, he makes risky and potentially disastrous gambles.
9.How is different is Sophie (our narrator) as a young girl and as an elderly woman? What do you imagine her life was like?
MARRYING MOZART is published in the following foreign editions:
German: "Welche Wonne dich zu finden" from Droemer Knaur
French: "Épouser Mozart" Jean-Claude Lattes
Italian: "Il matrimonio delle sorelle Weber" Neri Pozzi
Portuguese: Editorial Presenca
Hungarian: Geopen Publishers
Serbian: Globosimo Aleksandrija
Polish: Rebis