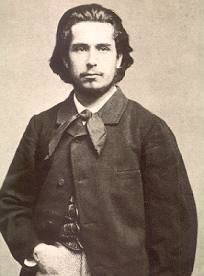 THE STORY OF THE NOVEL

In his early twenties, Claude Monet came to Paris, determined to make a success in painting. He quickly found poverty, obscurity and a beautiful upper-class girl Camille who threw away a life of privilege to be with him. He also made friends with a group of likewise unknown painters, often as poor as he was: Renoir, Pissarro, Degas, Bazille, Manet and Cezanne and somehow through every obstacle in the world kept them together until they began to be known as impressionists. But the years of struggle and life in wretched rooms with little food began to wear on his patience and Camille's endurance until even as he was beginning to sell his work, their passionate love was descending into tragedy and he was beginning to understand that he had never completely known her.
CLAUDE AND CAMILLE begins when as an old man in Giverny, Claude discovers a letter from Camille's sister written nearly forty years earlier, holding him responsible for her death. Through the book, traveling back and forth between the young man so in love and the old man remembering, the reader will decide for herself if the terrible accusation is in anyway true and if so, does the great work he gave the world including the many water lily paintings make up in beauty and perfection for what he could not give others in his life?


REVIEWS

"What a man! To be swept up by this novel which reveals the man and woman behind the waterlily paintings, the seascapes and landscapes, is, and must be, a heartbreak. For me, reading Claude and Camille is like seeing old friends, learning them anew, from the inside, their passionate lives pulsing again by virtue of Stephanie Cowell's sure pen. The story is lovely, touching, delicately written, extraordinarily compelling, and nearly all true. Read it with a book of Monet's paintings by your side, and be prepared to marvel, and to weep."--Susan Vreeland, author Luncheon of the Boating Party and Girl in Hyacinth Blue

"An engaging, lyrical, and spirited work of fiction about the great love of Monet's life. Cowell creates a vivid world here, of art, friendship, and ardent love within the Impressionist circle." --Harriet Scott Chessman, author of Lydia Cassatt Reading the Morning Paper

"Reading Claude & Camille is like inhabiting an Impressionist painting filled with luscious, tactile imagery. But in this novel of passion and heartbreak, Stephanie Cowell never forgets the emotional price exacted by such vivid, trembling beauty." -- Lauren Belfer, author of City of Light

"With elegant prose that blends color, light, and shadow to perfection, much as Monet did in his canvasses, Stephanie Cowell offers us a gorgeously rendered tale of love, genius, and haunting loss set against the dramatic backdrop of a world on the verge of inescapable change." - C.W. Gortner, author of The Last Queen

"Stephanie Cowell's new novel of art and love is focused on Claude Monet's great passions: painting, friendship, and Camille Doncieux. With her uncanny ability to inhabit the hearts of historical characters, Cowell creates a wholly fascinating milieu as vividly as a film-maker. She has a special gift for rendering the scene--knowing which moments excite the reader, illuminate the characters, and create memorability. I was touched by the novel's tenderness and compassion, and moved to immerse myself in my books of Impressionist paintings." --Sandra Scofield, author of Opal on Dry Ground and Occasions of Sin

"Claude & Camille offers a fascinating look at nineteenth-century Paris, the bohemian lives of the Impressionists, and their struggle to create a new way of seeing the world. From Parisian ateliers to Giverny's lush gardens, Stephanie Cowell paints an unforgettable portrait of Claude Monet and the two passions that framed his life: his beautiful, tragic wife, Camille, and his pursuit of art." --Christi Beverly, author of The Devlin Diary

"Stephanie Cowell 's Monet and his Camille are achingly real, and the miserable garrets of Paris where they struggle to survive are so sensitively portrayed you can almost smell the paint. Cowell sweeps the reader up into a story as dazzling and turbulent as the art whose creation she depicts." —Laurel Corona, author of Four Seasons

"Claude & Camille is a wonderfully absorbing and romantic novel, the story of Claude Monet's passion for his painting and his equally passionate love for a woman who is as elusive as the water lilies that he strove to capture on canvas. This elegant novel was hard to put down, and once I did, I rushed to view Monet's paintings with a deeper understanding. Stephanie Cowell is a wonderful writer." --Sandra Gulland, author of the Josephine B. trilogy and Mistress of the Sun

"A novel as luminous as a Monet landscape. Cowell shows the reader the world through the great artist's eyes, and paints a dazzling portrait of a passionate young man struggling to become the towering Impressionist we revere."-- Ellen Feldman, author of Scottsboro, shortlisted for the Orange Prize.

"A wonderful novel, rich in depicting Claude's unstoppable passion for his art, his resourcefulness, his regrets and his fallibility. He dominates, wooing the reader with his complexity. Female readers are going to adore him. He's sexy and inaccessible all at once. An amazing achievement." -- Susan Dormady Eisenberg, journalist and novelist

THE WRITING OF THE NOVEL

I am the daughter of artists and the struggles of the great impressionists were my bedtime stories. Then about fifteen years ago, I saw an extraordinary exhibition at the Metropolitan Museum of Art in New York called The Origins of Impressionism. In it were gathered paintings from the 1860s by several artists who would become the impressionists. I was struck with the friendship between them: they painted the same vase of flowers or seascape, slept on each other's floors, pawned their watches to help each other and urged each other on, standing shoulder-to-shoulder as Renoir said.

Unlike my previous two novels which each were born in less than a year, CLAUDE AND CAMILLE took many drafts over a period of four years to complete. I could not find the best structure in this complicated story of many stories really until it finally moved into the point of view of both the old and young Monet and his love for the beautiful Camille who would haunt him all his life and never tell him all her secrets.